Many of even the most infrequent of Internet users has experienced instant searches by now, where search suggestions (or even full results) appear live while you type, before you even press Enter.  It seems like magic, searching the entire world as fast as you can type.  But did you know your Windows PC has the same power?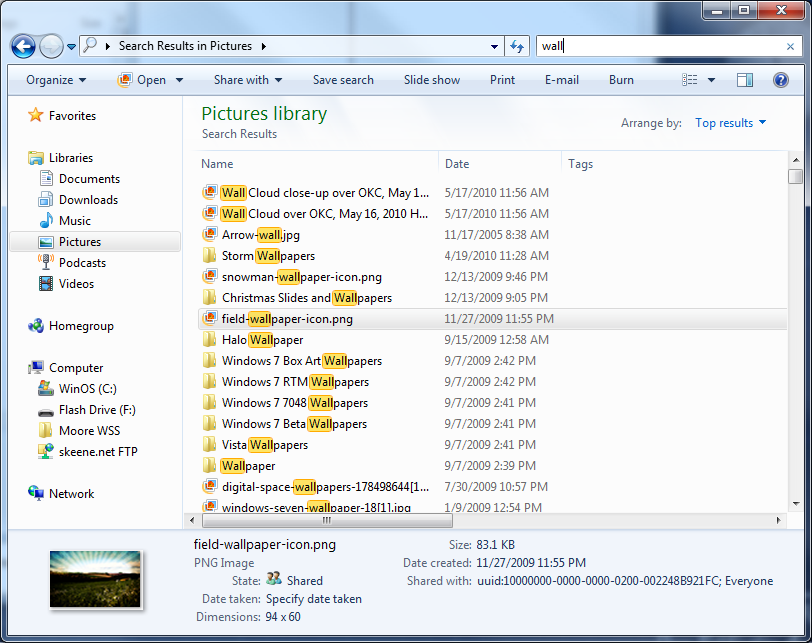 Since 2007, Desktop Search has been integrated into Windows.  Just open any folder, and notice a search box at the top right.  Here you can search your files with nearly endless criteria:  Images taken by Samantha during the first week of October? Piece of cake. JavaScript code snippet you want to reuse on your site and only remember one word inside? Too easy.
That is, if it's setup correctly.  By default, Windows only searches inside files if the location is indexed.  Just like in a textbook, an index is a collection of words and where they appear, designed for fast locating.  On your computer, the index allows Windows to return instant results without actually searching your files at that moment:  that work has already been done when the files were indexed.
Boost #1: Expand your index and/or allow full search even in unindexed locations (video demo)
So why are some searches so slow, or don't find files I know should be there?
Perhaps you're searching places that aren't indexed.  Take your libraries (Documents, Pictures, Music) for example.  Your libraries are meant for your personal files, and so they are indexed automatically.  And while it's recommended to store your files here, sometimes you find a situation where you need to store files elsewhere.  And when you go to search, you may not find the results you expect.  In these cases, or if you routinely need to search non-indexed locations, you can tell Windows to do an intensive search: literally crawl through every single file and search for what you are looking for while you wait.
Some have pointed out that you can also add folders to a library, which automatically includes it in your indexed locations.  While this is not always possible, the easiest way to accomplish it is to right-click the folder, choose "Include In" and choose a library.  This way your files don't move, but you gain the benefits of Libraries — which goes well beyond fast searches.
To enable full search, even in non-indexed locations, open Folder Options (type 'folder' into the Start menu to find it).  On the Search tab, click the 2nd option ("Always search file names and contents"), then click OK.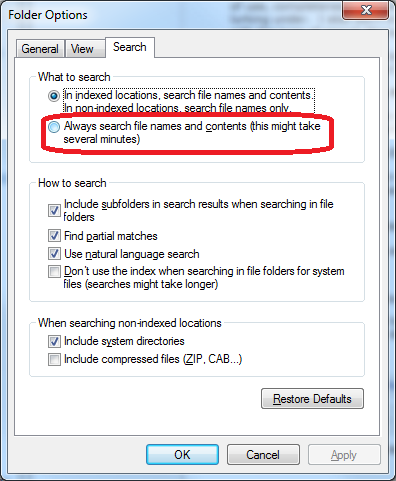 After that, words you type in the search box will be found, even if those words appear inside one of your files.  Searches may take a little longer if you're not in an indexed folder, but they'll be complete and should return the results you want (it'll do what Windows XP would have: a slow but thorough crawl).
Boost #2:  Allow search to peek inside non-standard files like JS and PHP (video demo)
Still not finding it?  If the location is indexed, but your phrase still isn't being found, do this to make sure the file type is getting included in the index. Do this, for example, if you are trying to find a phrase inside a non-standard file like a JavaScript or PHP file.  Type 'index' into your Start menu to find the Indexing Options, then click the Advanced button.  On the File Types tab, find the file type you want to be indexed (tip: click in the list, then type the file type letters like JS to jump to it).  With the file type selected, make sure the 2nd option is selected "Index properties and file contents", then click OK to close each box.
Tip: Did you know you can search your entire computer (and beyond) from the Start menu?  Just tap the  key on your keyboard, then start typing anything.  It will search your programs, files, emails, and more.  I use this constantly to find people in my Outlook address book without actually switching away from what I'm doing.
These two simple changes will go a long way to reduce search frustrations people commonly have with Windows 7.  Your performance in indexed locations will be as quick as ever, and you gain reliable results outside of those locations. As the best of both worlds, I believe this should have been the default settings from the start.